It's always an honor to have the opportunity to make someone special horse into a work of art that has meaning to them. You could have your horse painted in any of the different styles I have done in my other works of art. For example, your horse in a magical forest or jumping over giant diamonds (like one of the
Horse in White
), anything is possible. I feel like equine portraits need to be more than just a horse head on the wall that looks like your horse but something you can enjoy the artistic style of as well. I use to do horse portraits like that ( just the horse). I am not saying there is anything wrong with this and you will see some of mine below but I wanted to create something more. The portrait I did of my own horse Wildfire which you will see below is painted with metallic paint to show of his sheen. He was also painted on white so his white blaze would disappear in to the background. This is technically just a horse head portrait but it has its own artistic feel in a simplistic way. This is how I chose to represent him simple ( white background) but bold (the metallic paint). I love picking just the right background that will show off the horse to the fullest an add to the over all look of the finished work in its future home. I hope this gives you an idea of what I like to do for portraits.
There is only one size to pick from so you will not have to make up your mind on what size you want.
There is more information on getting a portrait below. If you have any further questions feel free to contract me.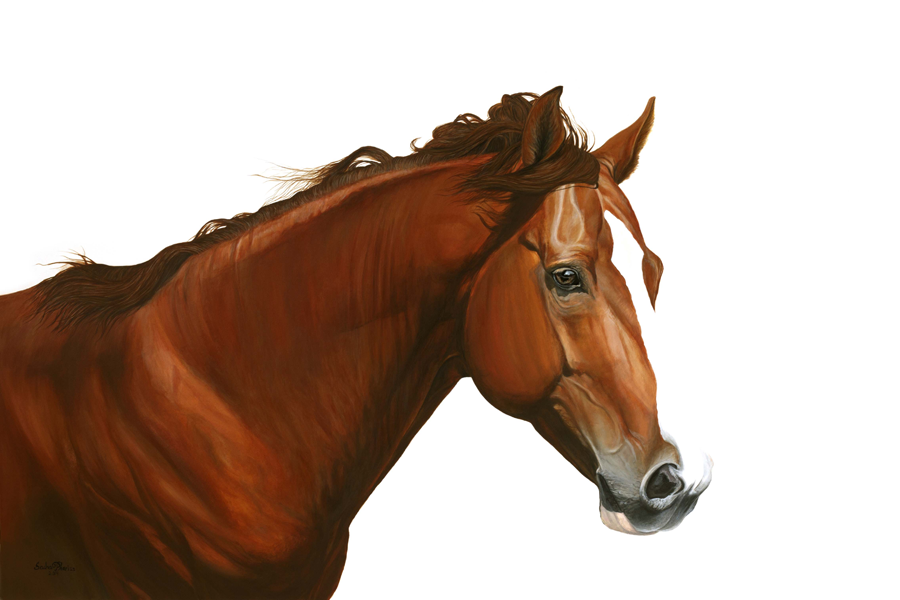 Wildfire's portrait painted with metallic paint. You can't see the metallic paint in the photo but in person he has a nice glow.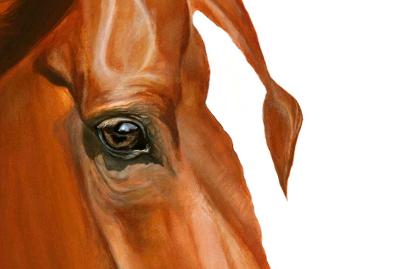 Some details of this painting. As you can see a very simplistic style

Here are some examples of what can be done as well as a few in progress photos of the paintings. Remember you can have your horse done in any style seen in my collections or something new as long as it fits my style of painting. The paintings below are part of my Horse Majesty collection. My collections:
Horses In White
Horse Majesty
Horses in Forest
Once Upon a Horse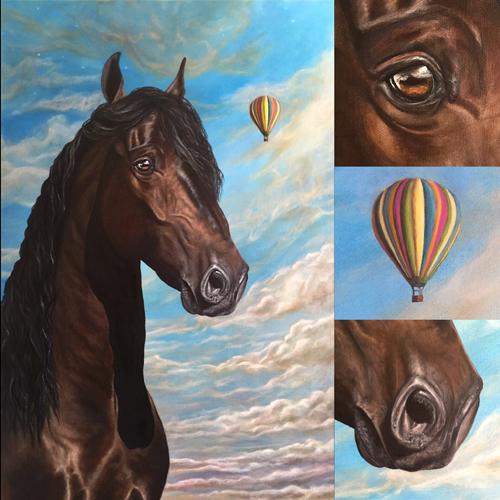 Acrylic Painting

Make A Wish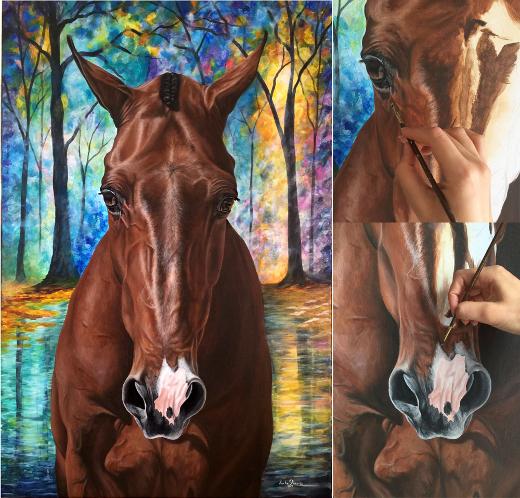 Acrylic Painting
Be Colorful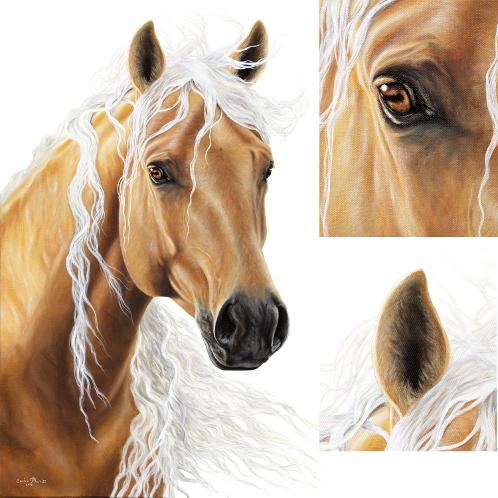 Acrylic Painting
On Canvas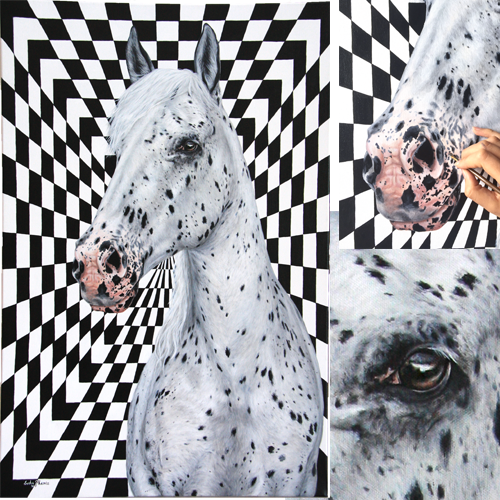 All portraits/paintings are done on the same size 24X36 inches. You can have it painted on museum quality Gessobord or canvas. All of the acrylic paints used are light fast and are the best I could find on the market. The art is sealed after with a UV light protection to guaranty the longevity of your original art work.

As mentioned before there is only one size option 24X36 inches. The cost for a portrait depends on how much time I have to spend working on it. In general a simple one is around $800 USD a complicated one is ( Complicate - Any thing extra besides the horse that is time consuming to paint) is from $900 - $2000 USD. Contact me for quotes. All prices exclude shipping. Shipping will vary depending on what your art is painted on (gessobord or canvas, the gessobord weighs more then the canvas ) and where in the world you want it shipped. I will ship any where as long as you are willing to pay the shipping cost.
The Following is information about the process.

Step 1 Contact me via phone or email with your interest and we will discus what style would suit you and your horse best for the finished product. Whether the canvas or the gessobord is right for your horse's portrait.

Step 2 I will tell you what pictures will be necessary for completing your desired portrait. If when you contact me I am in your area , I will do a photo shoot of your horse. Upon receiving your pictures and a deposit of $150 USD (to cover the cost of the materials) work will start and you will receive updates on the work in progress. When it is almost done I will send you a photo of your art at this time if there are any changes you want made you need to tell me.
Step 3 You will receive a email with the final proof picture of your horses portrait. If at this time you do not give the final approval or no longer want the art your deposit will not be returned (this is to cover the cost of the materials ) You will owe nothing more and your horse art will be sold to someone who loves it.

Final step Payment is made in full before shipping and can be made via PayPal or direct bank deposit, more information will be provided about this via email when the time comes.

The photos that are requested for a portrait are...1. A quality picture of the horse in the desired pose for the finished work. I will let you know what the best lighting is for the photos of your horse ( this depends on what style of painting you are going for). 2. A full body picture.3. A picture of the horse's eye. 4.I will also need you to give me a short description of your horse's character.
The following is the most frequently asked question.


Can you draw a horse that is decease? Yes! If the picture of the horse is of high enough quality. A poor quality picture is difficult to improve on. Not that it can't be done it will just take more time.

Older Works of Art/Portraits

Below are some pastesl and other portraits I did before. I though it would be nice to leave them although at this time I am only offering paintings there are no longer Simple Sketches, Pastel Portraits or Graphite Drawings, sorry!